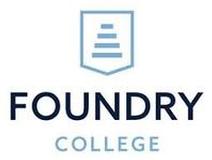 Foundry College is a new type of online two-year college that teaches working adults skills and knowledge that are in demand by employers and unlikely to be automated in the foreseeable future. The curriculum integrates practical training with a broad education so students can adapt as the labor market changes. Every class combines live, instructor-led lectures with small group active learning sessions to ensure that new knowledge is effectively integrated, retained, and can be put into immediate practice.
Foundry College students have complex lives outside the classroom with family responsibilities, work commitments, and other demands on their time and finances. Studies show that these students have improved academic outcomes when they have access to a personal coach. Foundry College is seeking to fill the position of Personal Coach, a part-time position (approximately 20-30 hours per week). Every student will be assigned to a coach who will help them navigate personal and emotional situations—and ultimately maximize the value they get from the program.
Personal Coaches are accountable for their students' outcomes. Applicants will have training in psychology, counseling, or education and be passionate about helping adult students manage the challenge of balancing life, work, and school. Applicants should also demonstrate excellent interpersonal skills, a strong work ethic and high degree of organization, enthusiasm about working with diverse populations, and keen judgement to identify situations that should be escalated beyond a one-to-one coaching interaction.
Responsibilities:
Manage a portfolio of approximately 45-60 students and provide ongoing emotional and personal support.

Arrange to meet with approximately 20-25 students each week in 45-minute, one-to-one personal coaching sessions conducted in an online Zoom meeting room. 

Proactively monitor the portfolio of students in order to provide support and interventions to the students who need it the most.

Identify each student's individual needs and provide personalized support. Personal coaching topics may range from helping students with professional goals (i.e., review a cover letter or practice mock interviews) to navigate episodic events that could interfere with their ability to meet academic goals or commitments (i.e., develop an academic plan to get caught up after a child's illness led to missed class).

Support student community activities and efforts including a monthly Job Club, the student Facebook group, and proactively seeking ideas that develop a sense of connectedness. 

Meet with supervising Senior Coach on a weekly basis to discuss challenges, engage in problem-solving, and share best coaching practices.

Escalate specific issues directly to supervising Senior Coach to intervene as appropriate.

On occasion, be available to students for communication and support outside designated coaching times.

Participate in weekly meetings with other members of the Student Experience Team
Required Qualifications:
Exceptional interpersonal skills, including active listening and ability to adapt communication style based on the situation.

Demonstrated academic success at the undergraduate level in psychology, education, or counseling. A coaching certification or equivalent credential and/or professional experience will also be considered.

Experience coaching students in a higher education environment

Professional experience and enthusiasm for working with diverse populations (across age, gender, ethnicity, socioeconomic status, geography, etc.).

Highly organized, responsible, and detail-oriented.

High energy, entrepreneurial spirit, and strong interest in helping Foundry College maximize the impact of our coaching program for students.

Reliable high speed internet (20+ Mbps) and home office free from distractions.

Competent with technology and willingness to learn new software platforms.
Preferred Qualifications:
Graduate degree in psychology, education, counseling, or professional experience in business or information technology or related field.

Experience using SalesForce or equivalent CRM software.

Experience teaching, training, or advising adult learners.

Experience working on a remote team.

Experience using data to make decisions.
How to Apply
Please email careers@foundrycollege.org with your cover letter and resume as a single attachment when applying and references the role you are applying for in the subject line.
About Foundry College
Foundry College is a new kind of college that offers live, face-to-face classes in an online environment that promotes the community of a traditional classroom experience. Every class combines live, instructor-led lectures with small-group active learning sessions to ensure that new skills and knowledge are effectively integrated, retained, and can be put into immediate practice. Foundry College's proprietary learning management system, the Forge, can host up to 200 students per session and uses performance data to facilitate student learning and success. Created by a team led by President Emeritus and Chief Academic Officer, Dr. Stephen M. Kosslyn, Foundry College launched in 2018 and is headquartered in San Francisco. Foundry College was recently named a Top 100 Ed Tech company in North America by HolonIQ. www.foundrycollege.org.
Equal Opportunity Employer
Foundry College is an equal opportunity employer. All applicants will be considered for employment without attention to race, color, religion, sex, sexual orientation, gender identity, national origin, veteran or disability status.
© Copyright 2021 Internet Employment Linkage, Inc.