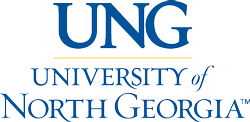 Job ID: 229947
About Us
Located in the fastest-growing region of the state, the University of North Georgia is a multi-campus university with an enrollment of nearly 20,000 students, making it one of the largest institutions in the University System of Georgia. UNG is focused on a mission of educational excellence, leadership development and community engagement opportunities that develop students into leaders for a diverse and global society. Through a variety of educational pathways that provide access and range from certificates and associate degrees to a professional doctoral program, UNG is responsive to regional education and economic development needs. Federally designated as a senior military college, one of the university's signature leadership programs is its 800-member Corps of Cadets on UNG's Dahlonega Campus.
Job Summary
The University of North Georgia is currently accepting applications for an Academic Advisor for the Mike Cottrell College of Business on the Gainesville campus. The Academic Advisor works with a diverse student population individually and in groups regarding general education and major requirements and assists in course selection as part of a professional team of advisors. The advisor primarily supports students in specific majors to develop educational plans and goals. The advisor provides accurate and timely information regarding UNG academic policies and procedures and targeted, intentional support for students who are underachieving academically. The advisor serves as a liaison to faculty and appropriate departments and is also responsible for assisting with the development, implementation, and assessment of comprehensive student advisement tools and student success programs, including UNG's Quality Enhancement Plan. The advisor uses predictive analytic technology to support student persistence and assists with workshops, advance scheduling, and all advising and registration responsibilities at new student orientations. Other duties as assigned.
Responsibilities
Assists a diverse student population, primarily students in specific assigned majors, in developing educational plans and goals
Delivers targeted retention and success programs for special populations
Uses predictive analytic technology to support student persistence
Participates in all advising and registration responsibilities at new student orientations
Develops advance schedules for new freshmen
Develops and delivers student workshops and faculty training sessions
Assists in the development and delivery of assessment tools for academic advising
Knowledge, Skills, and Abilities
Demonstrated ability to present information in large group settings 
Must have a demonstrated ability to establish and maintain exemplary working relationships with students, faculty, staff, and administrators 
Excellent written and verbal communication skills 
Must demonstrate a strong background as a team player 
Must demonstrate the ability to work under minimal supervision to meet deadlines, manage multiple tasks, and prioritize duties
Must demonstrate a strong background in working with diversity.
Required Qualifications
Bachelor's Degree required
One year of academic advising, student affairs, enrollment management, or counseling experience required.
Computer experience with Microsoft Office required
Preferred Qualifications
Master's Degree preferred
BANNER experience preferred
Required Documents to Attach
Resume
Cover letter
Unofficial transcripts
Apply Before Date
7/27/2021
Conditions of Employment
Offers of employment are contingent upon completion of a background investigation including a criminal background check demonstrating your eligibility for employment with the University of North Georgia, as determined by University of North Georgia in its sole discretion, confirmation of the credentials and employment history reflected in your application materials and, if applicable, a satisfactory credit check. Applicants may be subject to a pre-employment drug test.
Equal Employment Opportunity
The University of North Georgia, a unit of the University System of Georgia, is an Affirmative Action/Equal Opportunity employer and does not discriminate on the basis of race, color, gender, sex or national origin, age, disability, religion, genetics or veteran status. Georgia is an open records state. Also, UNG is a federal contractor and desires priority referrals of protected veterans.
Special Applicant Instructions
Please include contact information for three professional references

University of North Georgia is committed to providing equal opportunity to all qualified applicants without discrimination at the basis of race, color, national or ethnic origin, sex, age, disability or handicap as a matter of college policy and as required by applicable state and federal laws.