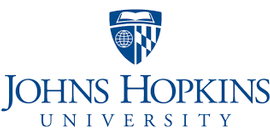 General summary/purpose:
Work as a member of the Engineering Advising Office within the Whiting School of Engineering Office of Undergraduate Academic Affairs. The Academic Advisor will perform general advising duties, handle academic issues affecting students, manage registration processes for incoming freshmen and transfer students, coordinate the graduation clearance process, and provide information to prospective students and their parents.
Specific duties & responsibilities:
Work with caseload of approximately 500-600 students (125 new students per year)
Perform general advising duties and deal with academic issues affecting students
Respond to policy questions
Monitor academic progress and make decisions about academic probation and academic dismissal
Answer students' questions and interact with faculty and parents
Manage registration process for caseload of incoming students: assist students with first semester registration during the summer by responding to questions via phone and email
Conduct graduation clearance with Registrar's Office, engineering departments, and the KSAS Office of Academic Advising
Serve as the WSE UG Academic Affairs liaison to one or more WSE academic departments/centers
Support retention and graduation goals by working with students on leave of absence or academic dismissal
Support students' appeals for reinstatement of financial aid following financial aid suspension
Participate as a panelist in recruitment events
Work with Undergraduate Admissions through participation in Open Houses and visitation days
 Represent the school and office at meetings and conferences
Additionally, the academic advisor will be responsible for a number of special responsibilities/projects. Current assignments for this position include the following; these may change as new projects arise:

advising several WSE student organizations
coordinating the Vredenburg Travel Fund, a summer international experience program
representing WSE on the B'More planning committee, a first-year student Intersession experience 
Minimum qualifications (mandatory):
Master's Degree    
3 yrs. of experience advising or other academic support services role for undergraduate students. 
Preferred qualifications:
Master's degree in student affairs, higher education, counseling or related field, including social science, is strongly preferred. 
Specific experience with engineering students and programs and student organization advising preferred.
Special knowledge, skills, and abilities: 
Must be skilled in office software applications and possess ability to learn student information system. 
Strong interpersonal and organizational skills
Outstanding verbal and written communication skills 
Knowledge of curriculum and academic policies essential.
Classified Title: Academic Advisor
Working Title: Academic Advisor
Role/Level/Range: ACRP/04/MD
Starting Salary Range: $52,495 to $72,210 annually
Employee group: Full Time
Schedule: M-F, 8:30 a.m. to 5 p.m.
Exempt Status: Exempt
Location: 01-MD:Homewood Campus
Department name: 10001469-Academic Affairs Ugrad
Personnel area: Whiting School of Engineering
The successful candidate(s) for this position will be subject to a pre-employment background check.
If you are interested in applying for employment with The Johns Hopkins University and require special assistance or accommodation during any part of the pre-employment process, please contact the HR Business Services Office at jhurecruitment@jhu.edu. For TTY users, call via Maryland Relay or dial 711.
The following additional provisions may apply depending on which campus you will work. Your recruiter will advise accordingly.
During the Influenza ("the flu") season, as a condition of employment, The Johns Hopkins Institutions require all employees who provide ongoing services to patients or work in patient care or clinical care areas to have an annual influenza vaccination or possess an approved medical or religious exception. Failure to meet this requirement may result in termination of employment.
The pre-employment physical for positions in clinical areas, laboratories, working with research subjects, or involving community contact requires documentation of immune status against Rubella (German measles), Rubeola (Measles), Mumps, Varicella (chickenpox), Hepatitis B and documentation of having received the Tdap (Tetanus, diphtheria, pertussis) vaccination. This may include documentation of having two (2) MMR vaccines; two (2) Varicella vaccines; or antibody status to these diseases from laboratory testing. Blood tests for immunities to these diseases are ordinarily included in the pre-employment physical exam except for those employees who provide results of blood tests or immunization documentation from their own health care providers. Any vaccinations required for these diseases will be given at no cost in our Occupational Health office.
Equal Opportunity Employer
Note: Job Postings are updated daily and remain online until filled.
EEO is the Law
Learn more:
https://www.eeoc.gov/sites/default/files/migrated_files/employers/poster_screen_reader_optimized.pdf
Facility
Homewood Campus
Personnel Area
Whiting School of Engineering

Johns Hopkins University is an equal opportunity employer and does not discriminate on the basis of race, color, gender, religion, age, sexual orientation, national or ethnic origin, disability, marital status, veteran status, or any other occupationally irrelevant criteria. The university promotes affirmative action for minorities, women, disabled persons, and veterans.
© Copyright 2021 Internet Employment Linkage, Inc.