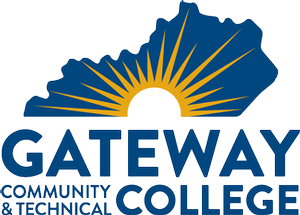 Department: Student Affairs
Summary
Gateway Community and Technical College invites applications for an Academic Advisor for Early College Opportunities. This full-time staff position will provide program facilitation and student support services to students in the Gateway Early College Opportunities (ECO) program.  This position will work in conjunction with the Director of Early College Initiatives to recruit, orient, enroll and advise students into the ECO. In addition, this position will assist with matriculating the students into the degree-seeking program after participation in the ECO and dual credit programs. ***This is a grant funded position.
Gateway Community & Technical College is a member of the Kentucky Community and Technical College System and is a public two-year degree-granting institution serving the Northern Kentucky Region. Gateway engages, connects, and inspires all students through education to successfully champion our region's competitive workforce and improve their quality of life.
Gateway offers a competitive benefits package and an attractive work environment that supports excellence, innovation, and creativity including:
Exceptional health care, vision, dental coverage for you and your family
Tuition reimbursement/waiver for you, your spouse, and dependents
403(b) retirement plan: a 5% employee contribution receives a 10% employer match
Employee Assistance Program 
Duties
Responsible for communicating with district and high school faculty and staff, parents, students and community about the ECO, recruits students, and conducts new student/parent information/orientation sessions. Works closely with Admissions staff insuring admissions procedures are followed.     
Responsible for providing general admission, advising and registration services to students and prospective students enrolled in classes at the ECO;  Including maintaining accurate student records by assisting students in completing all necessary paperwork for enrolling into the ECO. Assist students/schools with understanding where to access the additional admission services (Compass, etc.) when needed.
Assists seniors who are ECO students and community members with understanding the GCTC college admission process and provides information on other student support services that may be needed such as: Financial Aid FAFSA workshops, Admissions HS and GCTC transcript requests.
Serves as the advisor to the ECO students; Provides and conducts an array of student support services that advisors generally cover including early alert, semester advising and student problem-solving/planning.
Works directly with the Area Technology Center and Career and Technology Center dual credit students to assist with matriculating into degree seeking programs at GCTC.
Participates in professional development activities, especially those that will enhance the skills utilized in this position, as well as GCTC college-wide meetings. 
Other duties assigned by the Director, Early College Opportunities.
Qualifications
Required Qualifications
Bachelor's degree, or equivalent.
One – Two years of relevant experience.
The ability to establish and maintain positive relationships with students is critical
Experience in P-16 education would be helpful due to working with the high school student population.
Commitment to diversity, equity, and inclusion.
Experience in and understanding of the importance of working with students from diverse populations. 
Excellent organizational skills; high attention to detail; independent; self-motivated; able to work in a fast-paced, changing environment.  
Excellent interpersonal skills; ability to communicate with many individuals at all levels throughout the internal college environment as well as external business and community partners, representing his/herself in a professional and courteous manner.
Ability to communicate clearly verbally and, in writing.
Ability to multi-task, work under deadlines, and prioritize projects to meet deadlines with high levels of efficiency and accuracy. 
Must have proficient computer skills in Microsoft Office (Word, Excel and Outlook
Preferred Qualifications
Master's degree, or equivalent.
Three of relevant experience.
Experience in and understanding of the importance of working with students from diverse populations. 
Experience working at the community college level.
Long Description
Anticipated start date: May 2021
Initial review of applicants will begin after the position closes, and applicants will be notified if selected for an interview.
KY law requires state and national pre-employment background checks as a condition of employment.
Gateway Community and Technical College is located in Northern Kentucky – part of the Greater Cincinnati Region and is Northern Kentucky's only public, accredited, comprehensive two-year institution. Gateway offers high-quality, targeted education to meet the personal and professional needs of students, and contribute to the economic development of the region.
Gateway is an equal educational and employment opportunity institution and we are committed to creating a campus environment that values the exploration, appreciation, and celebration of diversity while promoting inclusiveness, multiculturalism, and global awareness.
Close Date: 04/15/2021
Hours Per Week: 37.50
Assignment Period: 12
Degree Type: Bachelor
Minimum Years Experience: 1
Desired Years Experience
3
Salary Type: Exempt
© Copyright 2021 Internet Employment Linkage, Inc.